A few days ago I borrowed a friend's canoe. I thought it would be fun to take the kids out and enjoy some time together on the water. I also thought it would be neat to take my VX-8R with me and see if I could get one of my beacons to hit the digipeater.
The kids and I drove up to Stella, NC and launched the canoe on the White Oak River. The goal was to give canoeing a try. None of us have ever been on a canoe before so it was a new experience for us. Just getting the three of us in the canoe was interesting. With the kids situated up front it was my turn to climb in. In the process the canoe pitched and rolled and Tyler was none to happy about it. While we didn't turn over it was an interesting few seconds there.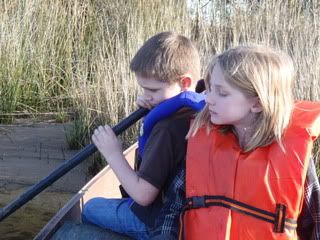 While underway we talked and pointed out interesting things to look at. The weather was nice so paddling was an easy job. The kids especially liked going under the bridge and all of the noises it makes when a car passed overheard.
Paddling the canoe and keeping the kids still was more time consuming than I had anticipated. Mostly keeping the kids still...I had the radio on but didn't pay much attention to it. There wasn't much activity and I didn't hear the VX-8R sound the note that it had received its position beacon back from another station.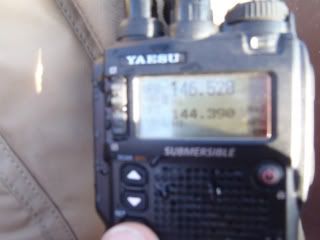 Last stop on the way back to the boat launch was a quick stop at a marshy island for the kids to walk and use the restroom. As we were getting close to the shore Tyler starting shouting "Land Ho!" I had a little pirate on board and didn't know it.
We had a good time but I'm not sure that canoeing is for us just yet. The kids didn't like the pitch and roll that a canoe has and I didn't like the idea of us taking a swim. Maybe in a couple years we'll be more sea worthy.
72,
Steve