We returned today from our trip to Townsend, TN. Let me start this by saying that we had a WONDERFUL time!!! The kids got out of school on Thursday afternoon for their annual spring break vacation. The XYL and I decided that this year we would go up to the Smoky Mountains and see what it was all about.
We left out early Friday morning. The trip was just shy of 500 miles. With two kids we knew that Mapquest's estimate of 8 hours would be more like 9+. Our drive up went very smooth until we got to Birmingham, AL. We noticed that the front left tire of the truck was very low. I pulled over on the side of the interstate and got the air compressor out to fill it up. My gut said that there was a slow leak and that everything would be fine as long as I was mindful of it. As were were working our way from Birmingham to Gadsden, AL I decided to call a friend who is from Gadsden to ask him where to get the tire fixed. He gave us directions and sent us to Bingham Tire.
The guys at Binghams took great care of us. It turns out that there was not a leak in the tire, rather a bad valve stem. Before we left I had to get a picture of me with their sign. I thought it was really funny!
As our drive continued the scenery became quite beautiful. The hills, rivers and mountains are such a nice change from our home in Florida. Driving over the Tellico Dam was a sight to see. As we hit the home stretch of the drive we came through a town called Maryville, TN. Rebecca and I really enjoyed this city. It seems like it is a really nice place to visit or live. We hope to return there soon. More info can be found here.
http://en.wikipedia.org/wiki/Maryville,_Tennessee
The last 20 miles of the drive were really great. At this point you begin your trek into the Smoky Mountains. Being from Washington state, mountains aren't neccesarily the most amazing thing to me, but after living in flat, pine covered Florida, it was a welcomed sight. Upon our arrival at the cabin we moved into "unload the truck mode". After 9 1/2 hrs in the truck we were all ready to get out. The kids took off exploring and Reba and I got to work. Here's a picture of the cabin we stayed at.
Once everything was setup, and everyone in place I decided to setup my station. I brought along the Sierra, TE NE KEY, ZM-2 and doublet antenna. I forgot one key piece of gear and that was my PL-259 to BNC adapter. NOT GOOD...I searched, looked and scrounged to no avail. Off to the local store in Townsend and luck would have it that they carried aligator clips. Out of the clips and wire that I already had, I "jumped" the connection. It worked but not that great. Here are some pictures of me operating.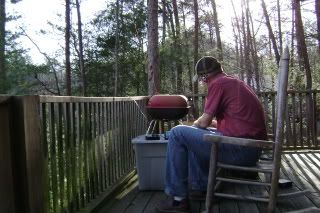 Terrible view huh? My antenna was 30ft agl on the north side and 300ft agl on the south side!!!
Here's a picture of me frustrated at the fact that I forgot my adapter. A picture is worth 1,000 words...
Sunset from the porch.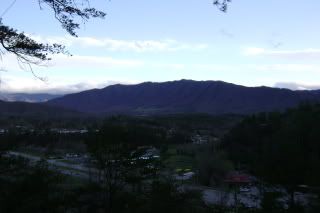 As the trip went on we hit all sort of great places. We went to the Smoky Mountains National Park. Our destination was Cades Cove
http://www.nps.gov/grsm/planyourvisit/cadescove.htm
. Cades Cove painted the picture needed to go along with all the stories I had read as a kid about mountain life in the 1800's. What a neat place. If you ever get the chance, go!
We also went to Dollywood which is Dolly Parton's theme park. The kids had a blast on all of the rides. We also got to see circus/acrobat type of show. I never thought I would see a lady on a unicylce on top of a giant ball, but I did. The weather turned cold while we were at Dollywood. By 1600 we were ready to go back to the cabin. Lots of fun and the kids are still talking about it.
The next day we went in to Sevierville and Gatlinburg. No trip to Sevierville is complete without stopping by Ten Tec. I have a 1340 tx and really like it. I know it will be a few more years before I can buy any of their nice radios, but it was still fun to look and operate their radios in their ham shack. In the end I bought a small coax jumper, Ten Tec ball cap and you guessed it, a 259 to BNC adapter!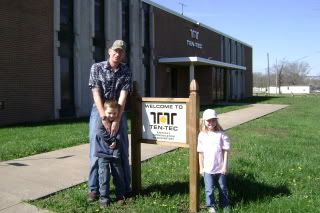 Me sporting my new Ten Tec cap.
Onward we march. Gatlinburg next destination. Let me start by saying that this place is really pretty but it is CRAZY! There were people everywhere. It is a tourist hotspot. We decided to head up the aerial tram to the top of Mt. Harrison and see the view. To our suprise at the top is a vast assortment of things to do at the ski lodge. We rode the ski lifts, alpine slide, and Blue Cyclone Raft ride. On our way up to the peak of Mt. Harrison I made my first ever "Ski Lift Portable" qso with Jerry KG4NPH.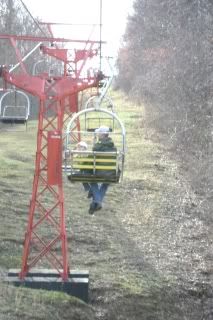 What a fun day on top of Mt. Harrison and I am truly amazed at how your antenna height can really get your signal out!
During our stay in the Smoky Mountains I had great QSO's with folks to the east and south of me, all on 40m. Notable QSO's were Tom KC0GT in Melbourne, FL and Rob KD4LRP in Fairfax, VA. I also got to work Bob WA6VVA and Bob N4CU both members of my club NOARC in Crestview, Florida. Everyone commented that my Sierra's 3watts were putting out an honest 599 (with my new adapter of course). I guess my antenna being 300ft up really makes a difference. More info on the club can be found at
http://www.w4aaz.org/
.
I had two gripes with the radio while there. The first was that lately I feel that the SSB mode is slowly working its way down into prime CW territory. It seems like 7.030-7.050 in the evenings is now a SSB haven for foreign operators. Finding a frequency not in use is becoming very tough. It sure makes it hard for us QRP guys as the listed calling frequencies are 7.030 and 7.040 respectively. I know that I don't own the frequency nor do I want to, but I'll get down off of my soap box now.
The second gripe came during an emergency call to the WB4GBI repeater in Knoxville, TN that I had to make. There was an accident on the road we were traveling on from Townsend to Pigeon Forge. A car decided to push on through a hair pin turn while an 18 wheeler was already negotiating the turn. Of course the trailer ran over the car! In this location there was no cell phone service so I jumped on my trusty IC-28A and found a repeater that had people talking. "Break, break, break" rendered no response even though I know it was heard. The ragchew about our President and guns continued. When the two main stations in QSO broke for a second, a third ham called for me the breaking station to try again (proving that I had in fact been heard). I responded with my call sign and that I needed to report an accident, and the response back from the first two stunned me. "Breaking station, you're weak into the repeater. QSY to another repeater closer to you and if you have an emergency call 911." The XYL and I sat looking at each other, stunned...Back to guns and the President the QSO went. I couldn't believe it. After a minute or so the owner/sponser of the repeater Tim WB4GBI got on and shut everyone up and reminded everyone about what exactly needed to happen when someone called "break, break, break". It took a couple of tries but the required information was passed. State & county law enforcement were dispatched.
I sat there thinking about what happened, when the hams on frequency started an excuse session about why they couldn't/wouldn't hear me, or not help out etc. Tim WB4GBI jumped back on and reminded the entire group of the purpose of Amateur Radio during emergencies and the fact that it may take more than 1 listen to a weak signal requesting help to get the message through. Furthermore he made it a point for everyone to take a "lesson learned" away from the event. As many of you know my job does not allow for this kind of excuse making and I was glad to see that Tim had "pulled their punk cards" as we say in the Marines. Bravo Zulu Tim!!!
All in all the trip was a family memory that I will never forget. The kids were great and we truly fell in love with east TN. We're looking forward to our next trip back to the mountains of Tennessee and maybe I'll get a chance to work you. Best of luck and 72.
Steve