I have not made it to many club meetings as of late but this past Thursday was different. I was excited to go because it had been 4 months since I had been to a club meeting (
http://www.w4aaz.org
) It was good to see the guys and the class on "DSP Fundamentals" by N4CU was informative. Bob W5RE gave a show and tell on a paddle that he had made. In Dec 2007 he challenged all of the club members to build something. Didn't matter what, but build it and bring it to the club and show the members.
A little background: Bob N4CU and Bob W5RE are my mentors in this HAM radio hobby. W5RE is the man I have to thank for giving me the motivation and drive to learn Morse code. Without it I would have never discovered my passion for QRP/p operations.
Back to the story: Out of the box came a set of CW paddles that Bob hombrewed from materials around his house. The paddles were made of stuff described by Bob as "from a bunch of junk in my shack". Based on Bob's description I chuckled to myself and came up with the name The "Junkyard Dog" Paddle in my head.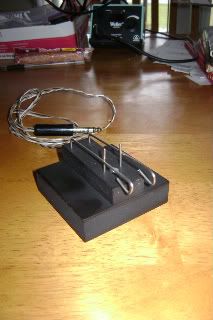 After his description and demonstration Bob spoke briefly about a ham that he was proud of. A guy that took on the challenge of the code and was now "running 30wpm with the DX stations". He then turned to me and presented the "JYD" Paddle to me. I didn't know what to say! "Thank you" and "Don't listen to Bob, I'm nowhere near 30wpm" was all I could say.
As the meeting ended the guys all came over and had a go at the "JYD" and we talked CW. What a meeting! Thank you very much Bob W5RE for the nice words and great little paddle. Here are a few more pictures of the "Junkyard Dog". I am enjoying the paddles very much. Bob did state that this paddle is the test version. I can't wait to see his final version in action.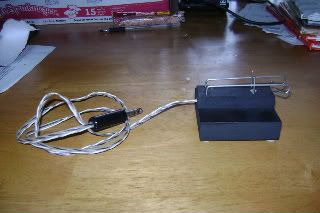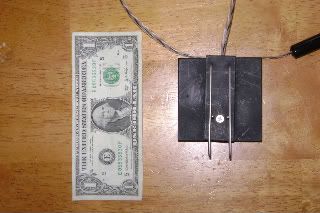 72
Steve