I had big plans this past weekend to get the kids outside. I was hoping for clear skies and more of the 75+ degree weather that we have been having. Mother Nature had other plans. A big thunderstorm rolled in on Friday night with off and on rain. The rain continued through Saturday morning and the kids were wanting to get out. What to do? I decided to load them up along with the gear, with the intent to scout new areas for this upcoming summer. We drove around and came up with a big fat goose egg! We checked out a few places on the Yellow River but gators and mesquitos look like they are ferocious during th summer at those spots! Around 1300cst there was a break in the rain so I decided to take the kids to the park in Baker.
I setup my Sierra, ZM-2 and TE NE KE to a 33' wire radiator and 33' counterpoise. I set my gear up on a table that allowed for me to operate on 40m and watch the kids at the same time.
I have noticed that with this particular setup I get an awful amount of impulse noise into the receiver of my Sierra. The first time I used this particular type of antenna in the backyard at my house, this was not a problem. I thought that this antenna would work well and solve the problem of the long diss & ass asociated with a doublet or GP. I have tried it with my FT-817 and Sierra and the noise is terrible on both.
I have two thoughts on the problem. Either my ZM-2 is the root cause and I need to check it for problems. Or the power line noise is amplified with this type of antenna. This has never been an issue with the doublet & GP. If you have any suggestions please send them my way!
The kids had a great time. Ann gave a thumbs up for QRP/p and quality time at the park!
Tyler was just glad to be out of the house and the truck.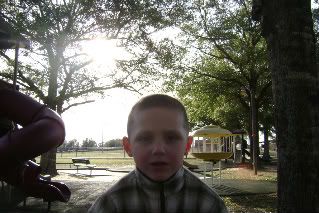 I made one contact before the noise became irritating. I did not want my bad attitude to affect the kids time at the playground and another wave of rain was inbound to our location. I shut it down and we loaded up and went back home after 1 hour at the park. Thanks to Ray WQ5L in Gulfport, MS for the QSO!
Sunday was no good for being outdoors as the weather turned cold. When I got up on Sunday morning it was 29 degrees and the wind was blowing at 20+mph. Oh well, maybe next weekend. Until next time 72 and hope to work you soon.
Steve