I finally had a chance to get out with the family and get some QRP/p operations today. I took a day of leave to hang out around the house and enjoy the day with my crew.
We started off the morning by sleeping in. The kids even joined in on this! Then we got up and went to our favorite restraunt for breakfast, Waffle House. After a good meal we made our way over to the grocery store to pick up some water and lettuce. Our plan was to make BLT's for our trip to the river today. Once we got home we went through the house and cleaned. I hate coming home from vacation or a family outing to a dirty house.
We loaded up the chairs, umbrellas, buckets, shovels and a ton of other stuff. Once everybody was ready we took off. I had to make a quick pit stop at Mickey's Pit Stop just north of Baker, Fl to get some trot line string, fishing hooks & bobbers and worms. The plan was to try some cane pole fishing while we were there today. After our detour we made our way up to "our spot". We call it our spot because it's a great location that I found one night while coon huntin. We have yet to have company at this location. The down side is that is is not the most accesible. While its not terrible, the road in is muddy with over hanging tree limbs. Even without rain the road is still a sloppy mess because its smack dab in the middle of the river bottom.
Once we arrived at our spot we started our setup and I took a quick oppurtunity to take a picture of Reba's truck. She hates when I we I get it muddied up!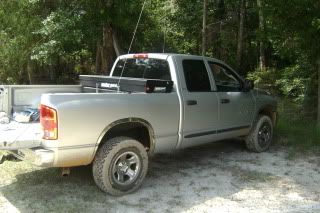 My goal was to spend as much time as I could in and out of the water with the kids today and not on the radio. I wanted to make a few contacts if possible but not lose site of the fact that I was there to play in the water with the kids. We tried fishing but it was a bust. I don't think that Tyler came out of the water once (which may explain why we didn't catch any fish)!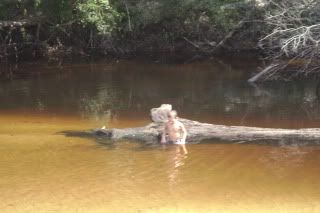 Ann played hard the entire time. As she gets older she has become more aware of the camera, but I did manage to get a smile out of her.
As the afternoon wore on and the heat kicked it up a notch (97f & 42% humidity) everybody started to slow down. This was my chance to hook up my PFR-3 to the antenna (center fed 44' wire w/twin lead). As I was doing this I noticed that Ann had climbed in to the truck and was taking a nap. I couldn't resist taking a picture.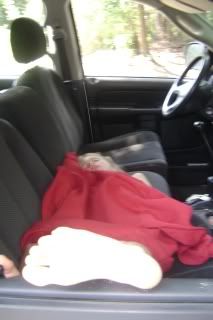 By the time I got on the air it was terrible hot. I managed one QSO and it was a tough one at that! Thanks to Barry WD4MSM in South Bend, IN for hanging in there with me! Here are some pathetic pictures of me operating. Forwarning, I dressed for the weather & river!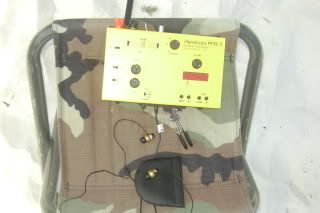 In the end I had a couple of "almost" QSO's with K3JK & N9EVP but my 5w signal was just not enough to get through to them. They both heard me and K3JK even sent a "barely cpy u". Oh well, I'll get them next time. What a great day to spend at the river with my family, and even get some QRP/p time in. Hope you enjoy, best of luck and 72!
Steve