Quick update with interesting pictures from the river this past Sunday. With the PA QSO Party going it was no suprise that all of my contacts were from PA. The following stations are listed in my log book. All contacts were made on 20m CW.
KC3M - PA QSOP
KA3BMV - PA QSOP
K3QIA - PA QSOP
N3BNA - PA QSOP
K3CHR - John from Philadelphia & fellow QRPer. John was using a FT-817. It sounded good John and keep up the good work!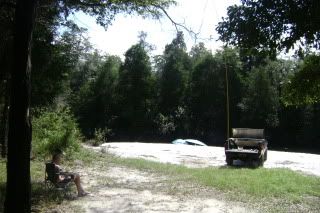 Conditions were good. The PA stations were like shooting fish in a barrel!
Ann, Tyler & Sand Castle
On the way home from the river we ran into a very ornery fellow. When we pulled up he wouldn't look at us. When I asked him how he was doing he gave me a "come any closer and you're dead" look. So I gave him plenty of space.
He was an Eastern Diamondback. He was about 3' long (small) and had aproximately 4 rattles. I have mentioned before on this blog how much I like snakes. My opinon hasn't changed.
Hope you enjoy and 72!
Steve